Raditz
Global Moderator







OVER 9000!!!![M0n:700]
member is offline




Best Hair!





Joined: May 2011
Gender: Male


Posts: 149
Karma: 1
Wishing Upon An Evil Star
« Thread Started on Jun 6, 2011, 4:28pm »

---

The darkened and stormy skies of this summer afternoon seemed rather befitting and ominous, as a fatal event was about to begin On the outskirts of Satan City, a gleeful Raditz had gathered his newly-found treasure trove of seven Black Star Dragon Balls. Standing on a grassy, windswept field, it appeared that Raditz was more than prepared to summon them. Coveting them, caressing them, and holding them in unison to his bare chest, Raditz left out a diabolical cackle. "ALL MINE, ALL MINE!!!!!!!!", he bellowed in triumph.

For nearly his entire life, Raditz had been held down by others, whether by Prince Vegeta, his traitorous brother, or the Ogres in Hell. But his eyes and lips trembled with bittersweet satisfaction; for now he would truly become powerful. Previously Babidi and Bibidi had reset the galactic balance of power with the Namekian Dragonballs, causing nearly everyone to become less powerful than them. Yet this stroke of luck for Raditz, meant that he could rise above such adversity; whereas his former foes could not. "ETERNAL DRAGON ARISE, AND GRANT MY WISH!!!!"








Tossing out the balls before him on the field, Raditz witnessed a mystical, electric-like energy surge forth from the Black Star Dragon Balls. The clouds thundered, and the skies scraped themselves with repeated bolts of lightning. Within just a few moments of this terrifying display, the Dark Shenron appeared, gnashing his teeth and hovering above Satan City. Already having come to a snap snap decision on what his wish would be, Raditz decided to gamble with his very own fate and life. For he knew all too well the consequences. "GRANT ME.............POWER, MAKE ME STRONGER!!!!!!!", the proud Saiyan warrior demanded.




---



Goku
Administrator







The Boss[M0n:465]
member is offline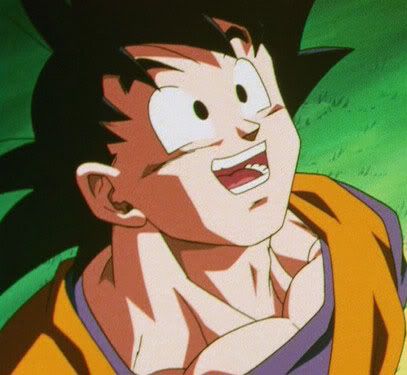 Look Vegeta! People Popcorn





Joined: May 2011
Gender: Male


Posts: 160
Karma: 0
Re: Wishing Upon An Evil Star
« Reply #1 on Jun 6, 2011, 4:40pm »

---

Congratulations, your power level has increased by 300,000 and you have 150 stat points to divide up amongst your stats. Be warned you have to regather all seven black stars by 1159 pm on July 6th otherwise your character will die

---

"I am the hope of the universe. I am the answer to all living things that cry out for peace. I am protector of the innocent. I am the light in the darkness. I am truth. ALLY TO GOOD!! NIGHTMARE TO YOU!!!